HI! I'M SHERLYN AND WELCOME TO MY TRAVEL BLOG!
I am an Assistant Professor of International Relations and Southeast Asian/ASEAN Studies from Manila, Philippines.
During my free time, I write, I travel, I eat, and I'm always hungry for more.

Where's Sherlyn? may not be your ordinary travel blog, because it's an Asia travel blog written by an Asian. As an academic by profession, I always crave for knowledge, data, and information. Hence, every travel is a learning experience for me. As much as I hate spoiling these for you, but as you browse through my write-ups, you are about to learn three major things:
FIRST, given the 'travel in the age of Instagram' hype, I am about to point you to the most Instagrammable spots in different places (because I myself looooove Instagram). BUT, it is still possible to travel not only for social media's sake, but to experience life in a different way and bring interesting stories back home.
SECOND, I try my best to manage traveling while keeping a full-time job, so no, you are not required to quit your day job to live a life of travel. There are no such rules to travel. There is no timeline, either. But no matter what your circumstances, capacities, and limitations are, if you really love to travel, you can always work it out.
THIRD, like I said, every travel experience looks good on Instagram, but no one talks about the ugly sides of travel (which, btw, should not discourage you to travel but for you to realize that it is just a natural part of the whole idea).
I am here to tell you that in the grand scheme of things, traveling may not be beautiful 100% of the time, but it's always just a matter of perspective (just like other things in this world).
(TRAVEL) BAGGAGE
(BECAUSE WHAT'S TRAVEL WITHOUT SOME DRAMA, ANYWAY?)
SO, WHERE DO YOU WANNA GO TODAY?
Click the country you want to go to view travel tips and stories!
CAMBODIA
INDONESIA
JAPAN
MYANMAR
PHILIPPINES
VIETNAM
WHERE'S SHERLYN?'S AFFILIATE PARTNERS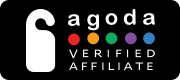 FRESH UPDATES, TRAVEL FREEBIES, AND PROMOS
Travel tips, freebies, discount codes, and promotions are coming your way, straight to your inbox! I don't spam, I promise!